Hawaiian Fun Under the Texas Sun!
June 7, 2018
"I see trees of green, red roses too. I watch them bloom for me and you and I think to myself, what a wonderful world." Israel Kamakawiwo'ole, Over the Rainbow.

Everyone's favorite season is finally upon us and the world is wonderful- as long as you have a plan in place for when school is out of session. Unfortunately, your window to get planning under way is dwindling, so if you still don't know what to do with your child this summer then this list is for you! Full of fun parks, like Hawaiian Falls and educational places, like the Waco Mammoth National Park you'll never have to hear the dreaded words "I'm so bored…" again!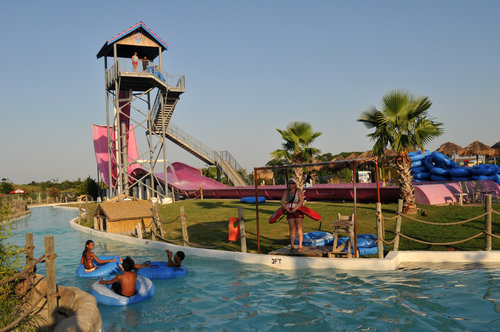 Waco

Waco locals, did you know that you are living near one of the newer national park systems to be declared in recent years? Waco Mammoth National Park is an active archeological dig site sitting within 100 acres of wooded parkland along the Bosque River. Discovered in 1978 the site has so far been shown to contain the bones of a nursing herd of 16 Columbian Mammoths, 5 more females unrelated to the herd and one male mammoth, as well as a western camel, dwarf antelope, American alligator, giant tortoise, and the tooth of a juvenile saber tooth tiger. While some of the bones have been removed for study many of the bones were left and are viewable by the public in the exact position they were found. If you have a budding archeologist on your hands, this is a can't miss trip.

Located just 11 minutes away is the Texas Sports Hall of Fame, home to over 300 Texas Legends the hall of fame is meant to be an inspiration to both the young and the young of heart as well to preserve the stories of late great athletes. With each new induction ceremony, the sprawling 35,000 sq. ft facility gains another exhibit sure to fascinate the player's young fans. Parents deserve to have some fun too, so plan a visit to Chip and Joanna Gain's Magnolia Market. Owned by the stars of HGTV's Fixer Upper the sprawling two and a half acres features a store, two-grain silos, and acts as a community center for local residents with a large artificial turf, picnic tables, a little garden, and nearby food trucks. This store is definitely a must see for local residents and visitors alike.

Garland

Whether you live in Garland or are just visiting you'll be delighted by all the cultural options available for children such as the Garland Symphony where you can visit Haydn's House, Beethoven's apartment, and the Cathedral where Schubert sang as a boy all in one day! Or learn more about the history of the city of Garland at the Garland Landmark Museum, established in 1972 the museum houses historical artifacts and documents all donated to the Garland Landmark Society. Take in a show at the Garland Granville Arts Center. Built in 1982 the complex includes two luxurious proscenium theaters and the exquisite Plaza Theatre.

The Colony

Support the local community with a trip to the Lakeside Community Theater, a non-profit, the theatre exists to entertain and educate the community in the theatre and performing arts, while providing a place for local talent to shine. Take in plays preformed by amateur local actors such as "Five Women Wearing The Same Dress" playing at 3 pm Saturday, June 30th. Afterwards bring the kids to one of the many great lake side parks like Willow Grove Park. Offering a scenic location perfect for picnics, fishing, and overnight camping the peaceful waters and beautiful surroundings are the perfect place to bring the kids and relax.

Mansfield

Give your kids the perfect chance to learn about the town of Mansfield at the Mansfield Historical Museum and Heritage Center located in the recently restored W.B. McKnight Building. Featuring displays and artifacts from early settlers a trip to the museum is a must for first time visitors to get a sense of the area. Then let the kids run wild in the 80-acre Elmer W. Oliver Nature Park. Featuring pond, forest, prairie and Creekside habitats there's always something new to view at the park!

Roanoke

Whether you live in Roanoke or are just visiting the town for a day a visit to Downtown Roanoke is always a must. Take the kids for a walk down the historic streets and explore the various shops and restaurants the town boasts. On Thursdays, be sure to stay for Evenings on Oak Street where you can listen to some truly talented local bands and musicians from 7pm to 8 pm while exploring the town. Set your alarm clocks for fresh local ingredients, found only at the Roanoke Farmers Market. Held every Saturday from 8 am to noon the farmers market features fresh fruits and vegetables grown at local farms.

Discover your Summer at Hawaiian Falls

While visiting these cities plan for a day of summer fun at Hawaiian Falls! With 5 convenient locations in the Dallas-Fort Worth Area and Waco, Hawaiian Falls is the perfect place to bring children and save serious dough! Before noon on Mondays visit one of the five parks for Mahalo Mondays where Little Kahunas can play free of charge with purchase of full priced ticket. Tuesdays mean Two-day Tuesdays! When you purchase a regular priced daily admission ticket, you can visit the park the next day for just $2! Bring the whole family and save on TGI-Thursdays. When you purchase two Big Kahuna tickets you'll get a third free of charge! Visit any Hawaiian Falls location after 3pm Saturday through Thursday and get half-priced admission on a Twilight Pass. Visit https://hfalls.com/daily-specials/ for a full listing.

Save even more money when you purchase a Season Pass online! You'll get unlimited visits to all 5 Hawaiian Falls locations, plus %20 off food and drink purchases; 15% off Birthday Packages, Cabanas and Bungalows, early entry into the parks, exclusive hours and coupons, and so much more. So, what are you waiting for? Discover your summer at Hawaiian Falls Garland, The Colony, Mansfield, Roanoke, and Waco!