From Mild to Wild You Can Find it at Hawaiian Falls!
May 24, 2018
No summer is complete without a visit to Hawaiian Falls! Discover your summer on over 100 rides and attractions in our 5 parks. Taking up over 100 acres in Texas, our parks will have you shouting "Cowabunga" in no time!

To help you plan your next visit we've put together a list of some of our favorite attractions at each park:

You'll be able to ride the storm on Tempest Tower. Made up of slides The Rush, Monsoon, Typhoon and Tsunami the only question you'll have is which your favorite is. Tsunami is a 2-person tube slide that curls around like a coiled snake before springing into a splashing finish. If satisfying all your senses is what you're really looking for in a slide, then The Rush is a can't miss. You'll slide down this tube slide in relative darkness while your favorite jams play in time to a laser light show and set of water misters. If speeding down a free fall body slide is more for you, then the monsoon and typhoon are sure to delight. These 65-foot slides take riders through and over the edge. Located in Hawaiian Falls Waco, Garland, and Roanoke this set of 4 slides will have you splashing into fun!

If you're visiting Hawaiian Falls Mansfield, then be sure to take a ride on the Cliffhanger. Grab your friends and a raft to get sliding down an amazing 40-foot drop. To keep up the adrenaline pumping fun head on over to the Hawaiian Halfpipe. You'll feel "totally radical" when a dark twist and sudden twist launches you into the halfpipe and don't worry, skateboards are not required on this halfpipe. This attraction is available in Hawaiian Falls Mansfield, and well as The Colony, Garland, and Roanoke

Looking for a truly unique experience? Then head on over to Hawaiian Falls Roanoke for the world's first dueling tube racer. Beach Blasters is a ride which launches 2 two-person tubes in opposite directions, so challenge a friend and see which team of two will be launched towards victory. Which slide is faster? We'll never tell.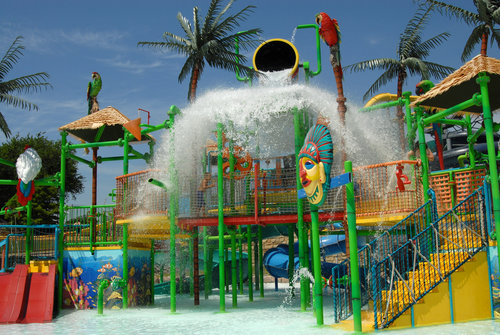 Ready to relax after a long week? Then the Kona Kooler and Rainforest River Adventure are for you. These lazy rivers are the perfect way to unwind and beat the summer heat. You'll float aside beautifully designed landscapes at Hawaiian Falls Garland, The Colony, Waco, and Mansfield. Then take a beach day in central Texas with Waikiki Beach and Breaker Bay. Available at all locations you'll be able to brave the waves in a 16,000 square foot wave pool. Surf's up!

Play on the world's largest aqua play structure, Mega Waterworld located in Hawaiian Falls Roanoke. This behemoth includes a three-lane racer, family raft ride, thrilling body slides, two dump buckets, multiple interactive pulleys, wheels, and great water features. Just remember to watch the clock because with everything in this play structure you can easily play the day away!

For the Keikis we have multiple attractions specifically designed to be safe, fun, and engaging in all of our parks. If your child wants to feel like the Big Kahuna of Honolulu then bring them to Hawaiian Falls Roanoke for the Keiki Surf Slider, a one-story slide that will have them smiling. While there be sure to check out the Keike Cowabunga slide, Keike Tsunami, Keike Pipeline, and Keike Waikiki Wipeout. The family-friendly Keiki Kove, available at Hawaiian Falls Garland, The Colony, Waco and the Methodist Mansfield Keiko Kove at Hawaiian Falls Mansfield will bring out the kid in everyone. This massive interactive rain-fortress features pulleys, rope-ladders, water-buckets, geysers, 3 forty feet slides, a dump bucket and at Hawaiian Falls Waco, a lazy river and whirl pool.

Plan your visit to one of the parks- or all of them- today with a 2018 Season Pass! Unlimited admission is included with this pass as well as early admission, weekly coupons, exclusive hours, 20% off food and drink prices, 15% off of birthday packages and cabanas, and an invitation to attend Season Pass Holder Appreciation Week! This fantastic deal is available all summer long and when you bring your Park to Park Passport on each visit to one of the five parks you can become a Hawaiian Falls Local and receive free drinks all season in a free insulated sports bottle! More details about both offers are available on the website here: https://hfalls.com/season-passes/. Discover your summer at Hawaiian Falls!