By David Alvey
Hawaiian Falls Roanoke second-year lifeguard Joseph Morin was scanning his zone in the Lazy River on a busy Saturday afternoon when he spotted what he hoped to never see: a body floating face down in the water.
"I didn't have time to be scared," said Morin, 18, a 2015 graduate of Northwest High School in Justin. "I just knew I had to get her and I had to get there quickly."
Morin immediately blew his whistle to sound an alarm so the rest of the water safety team came running. The response team included 18-year-old Emergency Medical Technician Cameron Davis, 19-year-old Lifeguard Lead Brendan O'Malley and 24-year-old Lifeguard Supervisor Hannah Decker, who arrived on the scene almost simultaneously with General Manager Jay Jenson.
Denise Valentine of Roanoke was with Jones in the river when the rescue happened. She reached out to Roanoke Mayor Carl "Scooter" Gierisch via social media.
"Mayor Gierisch, I just want you to know about an incident that happened right here in Roanoke at Hawaiian Falls last weekend," wrote Valentine. "We were there for about four hours and were taking one last ride on the slow river when my friend had a seizure. She slipped off her son's float and went under water. At first we thought she was just playing with her son. Then he yelled, 'my mom's having a seizure!' I had never seen her have one, but she had told me of her history. I immediately turned and saw her face down in the water. I grabbed her and pulled her up out of the water. A man (who identified himself as an off-duty police officer) was there with his daughter and turned to help, also. A lifeguard jumped in right away, and the three of us got her up onto the side. I don't remember how everybody got there so soon, but the [Hawaiian Falls] manager, Jay, and his staff was suddenly surrounding us. Jay started talking to the boy, asking him harmless questions to divert him from the scary scene with his mother. His staff was well trained and helped bring her out of her stupor."
Mayor Gierisch and the Roanoke City Council recognized the Hawaiian Falls water safety team at the August 25th council meeting. Mayor Gierisch read a Proclamation that stated (in part): "Whereas these employees deserve our sincere thanks, recognition, and praise for their quick and brave response, excellent judgment and professionalism in the line of duty. Now therefore, the Roanoke City Council does hereby acknowledge and sincerely thank Brendan O'Malley, Hannah Decker, Joseph Morin, Cameron Davis and Jay Jenson for their life saving efforts and service to our community."
Near the end of the ceremony, Megan Jones unexpectedly arrived to meet the team who had rescued her.
"I just remember their faces," recalled Jones, who recalls waking up, but said the details are still foggy. "I'm grateful they were there," she said.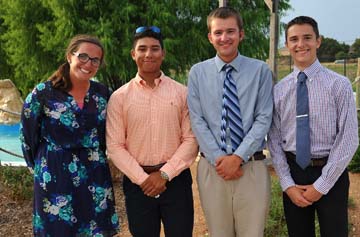 All Hawaiian Falls Water Safety personnel are trained and certified by the National Aquatic Safety Company (NASCO). Hawaiian Falls continually tests and trains the lifeguards throughout the summer. In an emergency, people don't have time to think about what they should do. When properly trained, they immediately react based on their training.
When asked what it was like to see Jones again, Morin replied, "Seeing her perfectly fine, and she's laughing and happy, it gives me peace."
Hawaiian Falls operates water parks in Garland, The Colony, Mansfield, Roanoke and Waco. In addition, Hawaiian Falls has combination water park – adventure park – event centers in Pflugerville and White Settlement. Hawaiian Falls water parks are open weekends only thru Labor Day. More info at www.hfalls.com or facebook.com/hfalls